Digital Solutions: How renewable energy enterprises can adapt to COVID-19 disruptions
In July, we hosted a webinar for business owners in the renewable energy sector to explore and increase understanding of viable digital solutions for off-grid value chains during the pandemic.
Fiona Lukwago, the Advisory Manager, Investments and Advisory Services at AECF moderated the session drawing out the panellists' insights from their own companies' experience using digital solutions to support energy access solutions across Africa.
The renewable energy panellists were:
Thibault Lesueur – Chief Marketing Officer, Solaris Offgrid (Tanzania, Spain and France), a global company that 

develops technology to scale up promising energy access solutions such as Paygo solar.

William Ponela – CEO Zonful Energy, a 

Zimbabwean last mile distribution company for solar products.

Peter 

Thuo – Customer Success Manager, Angaza (Nairobi, Kenya), a global company that creates technologies such as solar lights and clean cook stoves that allows businesses to offer life-changing products.

Michael Tsan (main speaker) – Energy, Technology Advisor at Dalberg, a global consultancy company that partners with governments and communities to drive development.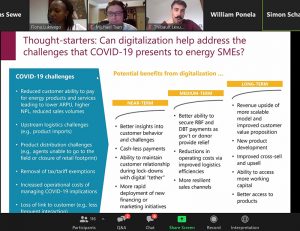 Mr Tsan noted that digitalisation can address systemic constraints to scaling up energy access: reducing operational costs while at the same time improving end-user affordability. Digitising processes can improve insights into consumer needs, markets and supply chains. Adopting digital solutions in customer engagement systems also leads to a number of benefits such as improved satisfaction, and reduced costs for consumer acquisition and after-sales services.
"Energy access businesses that have integrated digitalisation of customer engagements can drive down customer acquisition costs," said Mr Tsan.
In a bid to address the needs of individual customers, Zonful Energy which operates in Zimbabwe has been sending customised messages to its customers to enhance their satisfaction, according to Mr. Ponela.
In Kenya, Angaza has also been doing something similar. Mr Thuo, Angaza Customer Success Manager, said that businesses should adopt third party digital solutions to address the various challenges they face. Angaza has started thinking about promotional tools such as making payments within seven days to create more flexibility for their customers using their products such as IoT Angaza, Hub and Activator, and Angaza Connects.
Mr Lesueur of Solaris Offgrid said it is critical for African businesses in the renewable energy sector to adopt modern technologies to ensure their operations are not affected. He noted that there is no single digital solution that can solve all problems brought about by the pandemic. Renewable energy businesses should, therefore, adopt various digital technologies such as in finance and inventory management to achieve success.
In one of the interactive sessions during the webinar, some of the challenges that the audience said they were facing while digitising their businesses included; lack of adequate finances to employ technologies, language barriers, limited service providers to support digital innovations, and low levels of literacy among clients.
The panellists recommended the following steps to the participating businesses for integrating technology into their systems and processes: 
Start simple, measure results, and then scale up investment;
Have realistic expectations on timelines – it's usually a long journey for most businesses;
Prioritize the "why" – which pain-points will digital address – and think about effective scale for targeted impact;
Be wary of in-house development as third party solution space is growing rapidly and costs are declining;
Think about the long-term strategic and economic implications of platform lock-in; and
Consider the digital impact on risks and business model resilience, not just operational efficiencies and revenue upside.
In total, more than 115 participants joined the webinar from across Africa and worldwide. The webinar included interactive polls and direct questions from the audience which resulted in genuine learning and dialogue.
The next webinar in this series will be communicated via our social media pages: